In most cases it is not necessary to heat every square inch of the surface. It is best to cover as much as practical. In regard to chutes, only the surface that the material flow comes in contact with needs heat.
Standard

The panels are 1 3/4 inches thick excluding the junction box. They are measured from the outer edges as shown above.
Panels to Fit Over Bolts

The panels are 3 1/4 inches high and will fit over bolts protruding up to 1 1/2 inches. (If the bolts are longer, they can be cut off.)
Measure the distance from the outside to the outside of the bolts "A" and add 4 inches minimum to panel dimensions "B".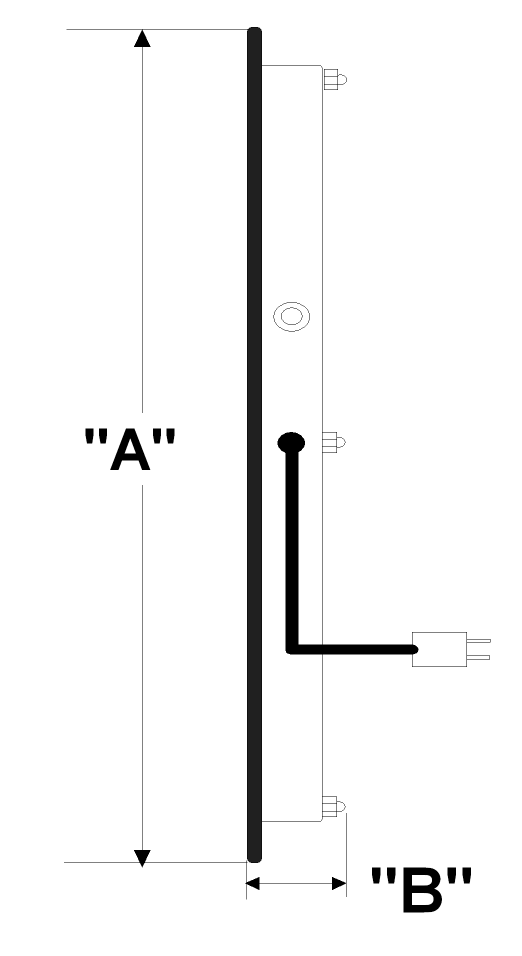 They are measured from outside of the cushion seal "A".
These panels are 1-1/2 inches thick overall "B".
The power cord exits the end of the panel and has a small pilot light to indicate that the panel is at operating temperature.
It is possible to slide these units into tight spaces otherwise inaccessible to standard panels.
Installation Instructions
It is imperative that no air gets under the Mag-Heat™ panel. The panels are equipped with a cushion seal that conforms to minor irregularities and surface roughness. If small gaps are present beyond the ability of the seal to eliminate, caulking can be used to fill the gap.
Irregular surfaces caused by damage from sledge hammers may require an optional frame that is the same size as the Mag-Heat™ panel. This frame can be trimmed to match the surface irregularities. Once trimmed, the frame is tack welded in place and the Mag-Heat™ panel sticks to the frame.
Specifications
18 Ga. 304 polished Stainless Steel Construction
75 Watts Per Sql Ft. Standard, Up to 150 Watts Optional
9 Ft. power cord with NEMA 5-15 Plug -55 to +220 deg.
Replaceable Heating Element
Operating Temperature -40 deg.